Like Rain On Your Wedding Day: Rachelle & Chris, Part 1
Click play for some music that I thought fitting for this rustic wedding :)
I had the honor of shooting an absolutely gorgeous wedding at The Barn at the Meadows in Orrville this weekend. The couple, Rachelle and Chris, had been together for five years, and the love between them shined through. What wasn't shining on their wedding day, however, was the sun: I grew concerned when I looked at the weather forecast for their big day. Rain, and not just a little, but rain that looked from radar like it wasn't planning to leave the area anytime soon. The couple, and their families, many of whom traveled from West Virginia for the event, were undaunted.
The Barn at the Meadows is truly a sight to see. It seemed as though the couple was meant to be married here when, as I walked around shooting all the beautiful details of the place I stumbled on this:
I immediately fell in love with the location. So many details truly made the day unique and special, from the name of the bride and groom on the sign at the entrance, to the rustic, hand-painted decor throughout.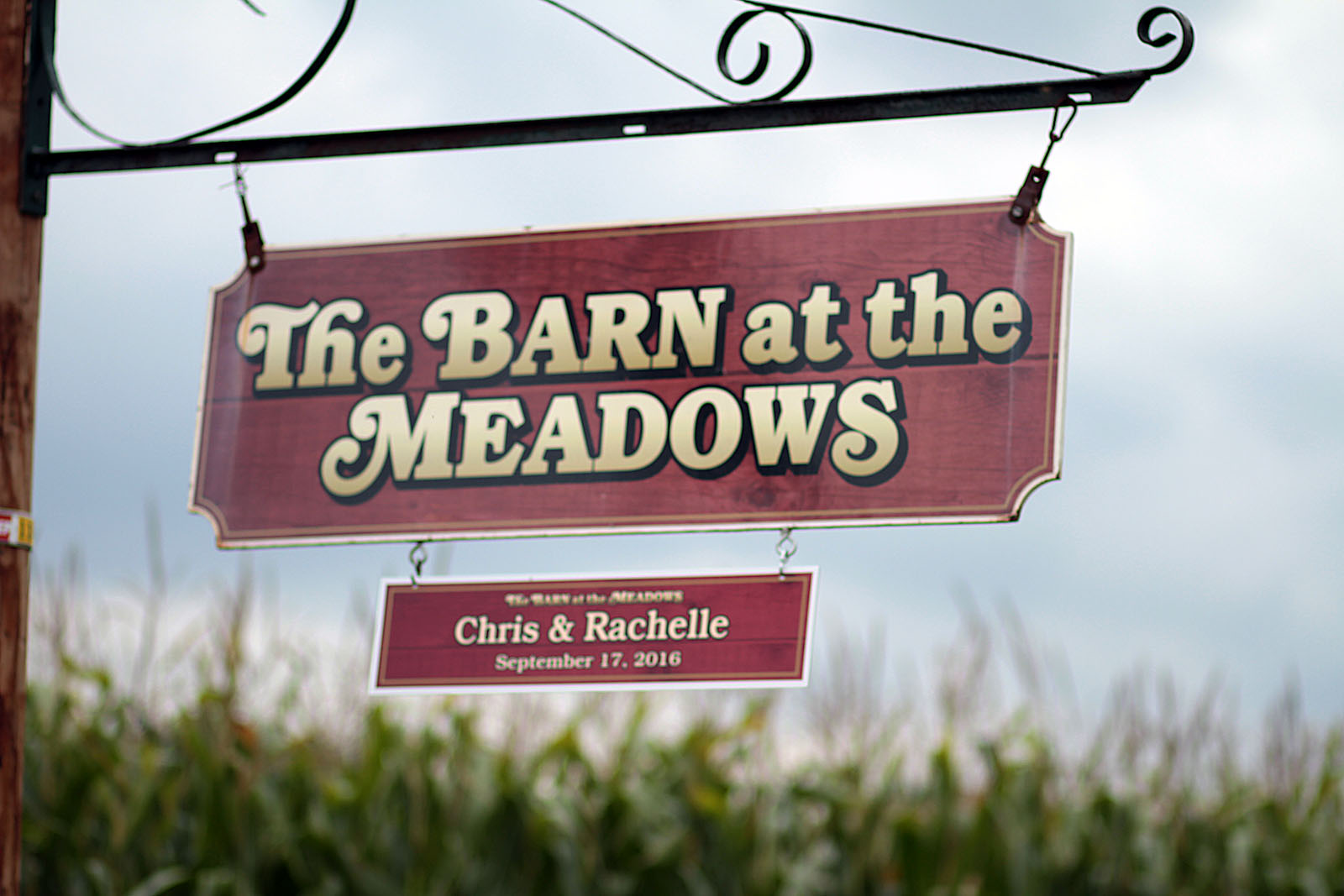 I found the bride, who was nervously awaiting the 4:30 ceremony start time. Her gown was gorgeous. She put the finishing touches on her hair and make up and then it was time to slip into her gown.
There were two factors that threatened the 4:30 ceremony target: rain and the seemingly endless loops on the back of the bride's dress that needed threaded. It truly takes an army to put on a wedding dress! The bridal party banded together, tweezers in hand, to lace up the back of the dress.
Ever so slowly, the girls made progress while the bride patiently waited.
I popped next door to see how the guys were progressing, and things seemed far easier.
Finally, the bride was all laced up. Whew!
The tiniest flower girl waited patiently...
Just then, the D.J. knocked on the door. The rain started coming down. For a few minutes, the big question was: inside or out? Half of the chairs were set up outside already, and the bride had her heart set on an outdoor wedding. So guests began making their way to the ceremony site: umbrellas in hand! And then the rain stopped...
They say rain on your wedding day is good luck. Everyone was in place. Would the rain hold off? Stay tuned!